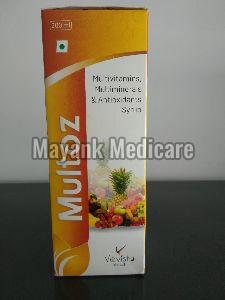 In our day to day activities, we sometimes get exposed to various conditions, some of which may pose a health risk. To cure any health problems people need to take medicines in the form of tablets, capsules or syrup. A most common problem in which people prefer taking syrups is cough and cold.
The same syrup is not sufficient for every type of cough. Hence, different types of over-the-counter remedies are available for the relief of coughs.
Types of Syrups:
1. Cough suppressants are normally used to relieve the symptoms of a dry, irritating, annoying cough. It decreases the activity of the cough impulse and suppresses the desire to cough. It actually works by suppressing a dry, hacking cough that clings you awake all night.
These are also known as 'Antitussives'. A generally available antitussive in the medicinal store is Dextromethorphan. These are normally available at local Chemist Stores or online Pharmacies as well.
2. Linctus is used to treat a cough with mucus (wet cough) as they work by loosening the mucus, making it simpler to expel from the body. Guaiphenesin is a commonly used expectorant.
3. Multi-symptom cough treatment comprises curing of multiple symptoms that accompany cough like cold & sore throat. Multi-ingredient formulations are available at the chemist stores or online pharmacies for treating multi-symptom cough.
4. Antihistamines such as Diphenhydramine is used to relieve
• Red,
• Irritated,
• Itchy,
• Watery eyes along with
• Sneezing
• Runny nose caused by hay fever, sensitivities, or the common cold.
Diphenhydramine is also taken to relieve cough affected by minor throat or airway irritation.
Why Take Liquid Extracts Over Capsules or Tablets?
Medical studies have revealed that liquid extracts like syrups have quicker absorption rates; greater optimization rates and is more easily consumable. Syrups of any category usually have a big advantage over pills when it comes to absorbing. Most people, particularly the elderly and young children, inclined to have more troubles in swallowing some pills.
Generally, supplements or medicines in syrup form are much more readily broken down and absorbed. Furthermore, it has been revealed that liquids are entirely and quickly absorbed than some of the capsules and tablets.
Conditions to prefer syrups over tablets: If you are facing any of the following conditions, then consider requesting your doctor, pharmacist or syrups supplier Rajkot for a liquid medicine or syrup alternative:
1. It is physically difficult or uncomfortable for me to swallow tablets
2. It is physically painful for me to swallow tablets
3. Can't face swallowing tablets
4. Often break, or crush tablets
5. Have to mix tablet with food or drink to swallow them
6. Have to chew tablets
Buy syrups online
Most people prefer buying through online stores even if there is no price advantage because they stand to gain in other ways. Syrup suppliers in Rajkot save their valuable time, effort and fuel too. With online ordering, one can keep buying repeatedly and get them delivered at the doorstep within 24 to 48 hrs.
Following are the features of leading online pharmacies
1. Offer a range of medicines at a budget-friendly price range
2. Possess excellent industrial value
3. Deliver on time with a large distribution network
4. Well-furnished inventory
5. Large storage structure