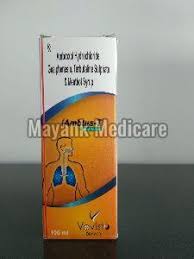 Cough can be defined as a reflex action which seeks to clear the airways of mucus or elements like smoke or earth particles. It does not threaten anything harmful to the body. It may also occur due to changes in weather or poor immunity level. There are two different types of cough. One is dry cough which does not produce any thick mucus or phlegm. The other type of cough is wet cough in which you may get phlegm that will help in clearing your airways. It is also known as chesty cough. Most of the time cough will get clear and cured in a period of three weeks with the help of cough syrup. If you have a severe cough, it is advised to visit a doctor who can identify the real cause behind it.
There are three categories of cough as far as its gravity is concerned which can be explained below as:
• Cough that lasts for less than 21 days will fall in the category of acute cough.
• Cough that lasts for a period of three weeks to eight weeks will be categorized as a sub-acute cough.
• Cough that lasts for a period of more than eight weeks will be called chronic cough which requires immediate medical attention.
Most of the time cough tends to clear up within two weeks. However, if you witness blood while coughing or getting a barking cough, visit your doctor as soon as possible. Cough that does not improve after three weeks requires medical attention as the problem may get grave. The sooner you see your doctor the easier it will be to nip the problem in the bud.
Given below are some of the factors that may cause cough:
• Germs or viruses: One of the most common causes of cough is the infection in the respiratory tract such as flu or cold. When respiratory tract infection is caused b virus attack it may take a few days or a week to get cured. If respiratory tract infection is caused by flu, it will take a long time to get it cured. You may require antibiotics and cough syrup to clean up such a cough.
• Smoking: This is one of the most common causes of cough as many people have resorted to smoking due to peer pressure or other factors. Cough caused by smoking is chronic in nature with a unique sound. It is also known as smoker's cough.
• Asthma: Another common cause of coughing is asthma. You can easily identify asthmatic coughing which may involve wheezing. Sometimes people use inhaler which has emerged a popular treatment of asthma. According to experts yoga also helps in curing asthma. If asthma occurs among children there are chances that it will get cured once they get older.
If you have got a cough due to bacteria, the doctor will prescribe antibiotics and cough syrups. You must take the medication for a week to fully cure it. Doctors generally prescribe expectorant cough syrups for curing the problem. Therefore, we can conclude here that if you are suffering from a cough then look no further and buy cough syrup from Cheridosz Cough Syrup Supplier to cure the annoying cough.