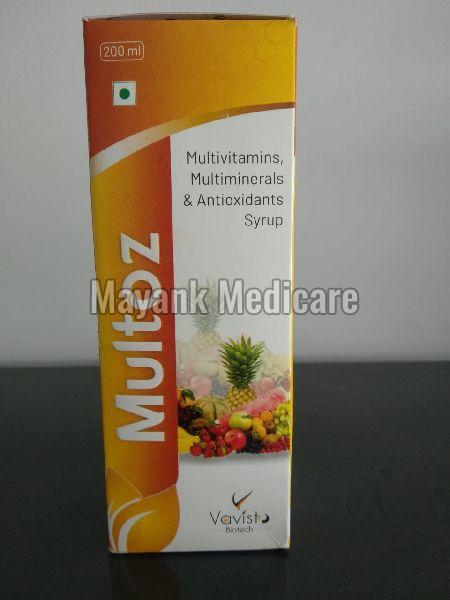 The Multoz multivitamin syrupis considered to be one of the best possible medications for those who are suffering from any kind of vitamin deficiency. The deficiency of vitamins is quite common among people in today's world due to the lack of a proper and balanced diet. Doctors suggest this syrup to those who are facing certain illnesses due to such poor quality of diet.
With help of the multivitamin syrup,one can make sure that their body receives enough supply of vitamins. The vitamins from this syrup would act as building blocks in the body of any person and keep them in a good health. Doctors or other medical experts would recommend the dosage of this multivitamin syrup to their patients based on their specific case.
Before consuming the multivitamin syrup one must shake the bottle properly and follow the instructions of using it given on the pack. Patients should always try to consume this syrup regularly till their doctor tells them to discontinue. A responsible pharmacist can also let them know about the dosing schedule of this product along with the various multi minerals provided by it in sufficient quantities.
The person consuming the multivitamin syrup must make sure on their part that they are not consuming any other multivitamin medicine. And even if they are doing so it is always important to contact the doctor and let them know about this. This is mainly because the overdose of vitamins through medicines that provide them can lead to overdose or side effects.
The human body needs such nutrients for various life processes including reproduction, maintenance of the body,growth and a proper balance and regulation of the different bodily processes. Any Multoz multivitamin syrup supplier would mention how this product gained popularity in the market mainly due to its efficiency. The presence of antioxidants in this syrup plays a vital role in the body of humans. One of the most common uses of antioxidants is breaking any potential chains of chemical destruction that are sometimes growing in individuals without them knowing.
The excellent market feedback of the Multoz multivitamin syrup has significantly added to its growing popularity. More patients are using this syrup and are even recommending them to their friends and family members who are suffering from any type of vitamin deficiency. Besides, the manufacturers and suppliers of this multivitamin syrup always try to make sure that only the most qualified and talented team of professionals are involved in the production process of this process.
This is also why most of the manufacturing units and facilities where this multivitamin syrup is produced are categorised under the state of art manufacturing facilities. The reason behind such a name is probably due to the mandatory medical laboratory tests conducted thereby abiding with the different industry standards and regulations. A person can buy this multivitamin syrup from the market in a plastic bottle that weighs around 200 millilitres. These bottles are properly sealed so that the syrup does not spill outside.
This entry was posted on November, 30, 2021 at 15 : 45 pm and is filed under Syrup. You can follow any responses to this entry through the RSS 2.0 feed. You can leave a response from your own site.